Your sewer line performs a major service for your home or business. As the channel that eliminates all waste from every drain, it can also cause major problems, however. In fact, sewer line trouble is one of the most significant issues you can face. Thankfully, you can receive unparalleled sewer service from the experts at On Call Plumbing. We use the latest techniques and equipment to perform fast, reliable sewer line replacement. We are here to help! Give us a call today at 661-201-6016 to learn more or schedule any necessary work.
When Do You Need Sewer Line Replacement?
Replacing whole pipelines can be a serious undertaking. When faced with a potential replacement job, there are several things that we look for:
Age: Pipelines that have been heavily used or are upwards of 50 years old are more likely to require replacement
Unmaintained Pipes: Clogged pipes that are not cleared out can actually damage the pipeline over time. If a pipeline is too damaged it may have to be replaced.
Reoccurring Clogs: If you are constantly dealing with overflowing sinks or toilets, it could be a sign of an issue deeper in the pipelines.
Roots: Trees are often the culprit of broken lines and water leaks.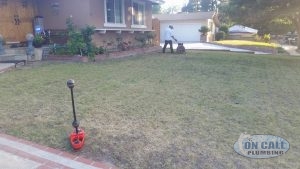 When ranking plumbing issues, a serious sewer line problem appears as one of the worst. To keep your pipes in good repair and avoid these problems, there exist certain strategies to follow. Attention to early indicators serve as perhaps the most important strategy to maintain. Serious problems can reveal themselves ahead of time through the prevalence of clogs or slow drains.
Other indicators include fluctuating water levels in your toilets, an increase in pests, and unusually damp, green, or smelly patches in your yard. If you smell sewage, there's definitely a problem. Try to call a plumber before things get too serious; after all, it could save you a lot of money in costly repairs down the line. At On Call Plumbing, we happily provide the following sewer line repair and replacement services.
If you suspect a problem with one of your sewer lines, call us for an inspection! We will use a specially crafted video camera to see what's causing a problem in your pipes. If the damage is severe, our skilled plumbers can provide trenchless sewer repair to minimize the cost and disruption. Traditional trenching methods can leave you with a huge trench through your yard and an even bigger hole in your wallet. Let our plumbers save you money and reduce the damage with trenchless pipe replacement techniques.
Don't procrastinate when it comes to sewer line repair, or you could end up with an even worse scenario. Call us today at 661-201-6016 if you need sewer line replacement. On Call Plumbing is happy to work on both residential and commercial properties!
Jeremie Johnson
sewer line replacemet santa clarita ca failure due to multible offsets and breaks in orangeberg and clay pipe replacing sewer using pipe bursting method trenchless sewer replacement
Jeremie Johnson
sewer line replacemet santa clarita ca failure due to multible offsets and breaks in orangeberg and clay pipe replacing sewer using pipe bursting method trenchless sewer replacement
Jeremie Johnson
sewer line replacemet santa clarita ca failure due to multible offsets and breaks in orangeberg and clay pipe replacing sewer using pipe bursting method trenchless sewer replacement
Jeremie Johnson
Jeremie Johnson
Jeremie Johnson
Jeremie Johnson
Jeremie Johnson