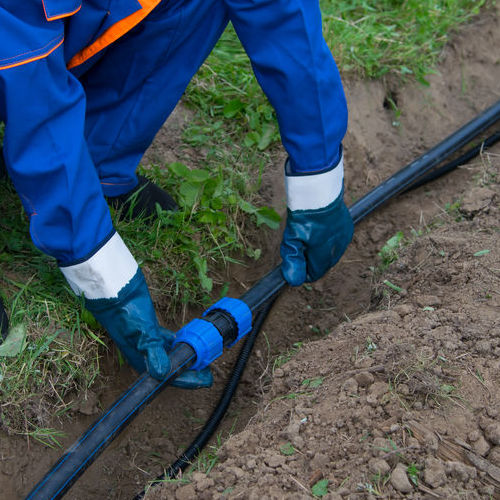 What Does Repipe Mean?
This is a great question because many customers want to know more about this intricate process. While many customers believe that a repipe involves replacing both drain and water lines, a plumber might suggest a repipe with regard to a pressurized leak. A repipe will usually include a repipe of all the water lines in a home to each plumbing fixture. It will also include new hose connections, new valves under sinks and toilets, new supply lines, and a new main shutoff to the home and water heater.
How Much Does it Cost to Repipe a House?
The cost of repiping will depend on the scope of the job and the material of the pipe. The cost to repipe a house with copper pipe varies between eight thousand dollars and sixteen thousand dollars. This averages out to approximately three to eight dollars per linear foot. For replacing galvanized drain, waste, and vent pipes with corresponding copper pipes, it can average out to around thirteen to fifteen dollars per linear foot.
What is Included in a Repipe?
Would you like to find out more about how a repipe occurs? Please review the following bullet-pointed list to find out more about this important process.
All water lines in the home that connect to a plumbing fixture will be replaced.
New hose connections will be installed.
All new valves will be installed under sinks and toilets.
New supply lines will be installed.
Your home or property will receive a new main shutoff to the home and to the water heater.
A new laundry box with valves and ice maker box will be included.
How Long Does it Take to Repipe a Whole House?
A whole-home repipe will generally take between two days to an entire week to finish. Of course, this estimate does not factor in if the job is extensive. Usually, a qualified, licensed and insured plumbing company will discuss the overall parameters of the job with the homeowners. A reputable plumbing company will also keep the homeowners informed of any plumbing estimate changes.
Does Insurance Cover Repiping?
Repiping services are a necessary part of home improvement. But are they covered by insurance? It's a great question. And the answer is that it depends. Whether or not your homeowner's insurance will have a provision for repiping depends upon your specific policy details, and if the plumbing issue has happened because of neglect or lack of maintenance. Generally speaking, homeowners insurance does not cover things that result from lack of maintenance.
Can I Repipe My Own House
With a little courage and experience, anything is possible. That is, except for undertaking any plumbing problem without at least five years of training and experience as a certified licensed plumber. Only after three years of experience will a plumber begin to see a true increase in their ability to plumb. The true answer to whether or not you can repipe your own house is 'no.' Unless you are a certified, licensed and insured plumber with a decade of experience, it's not a worthy undertaking. Your prospects are much better if you contact a master plumber. However, there are a number of different projects that you can undertake to improve the value of your home. One of these is new windows in Irvine, CA. New windows improve the energy efficiency of your home and increase your curb appeal.
How to Repipe a Mobile Home with Pex
There are a number of considerations to undertake if you are considering repiping a mobile home with PEX material. For instance, repiping a mobile home with PEX material generally costs between two to four thousand dollars depending on the size of the mobile home and the model. There are a number of different materials that are standard for mobile homes. These materials include CPVC, PEX, and PolyPipe. In metal varieties, copper, stainless steel and galvanized steel are popular. As previously mentioned, it is always best to leave plumbing installations to plumbers. Plumbers have the wherewithal, the insurance, and the certifications to back up any assertions they have. Additionally, the comfort and security of your home is best left in the hands of the professionals.
How to Repipe a Slab House
If your pipes have been laid out in a concrete slab, it will be important for you to figure out how best to reroute those lines. A professional, licensed plumber will show you the ins and out of this procedure. This is, after all, a very complex plumbing problem. The plumber will need to assess where the pipes are routed and diagram a plan of action.
How to Repipe a Kitchen Sink
As previously mentioned, hiring a professional plumber is always advised before undergoing any plumbing project on your own. In terms of difficulty, repiping a kitchen sink is an intermediate level. The curved pipes, which are called P-traps, connect to the sink drain and waste lines by compression fittings. These can often be unscrewed without a tool. In order to understand the process better, please make sure to call your local licensed plumbing authority. He or she will be happy to delve into the process and advise you on your best course of action.
Our company can help you with your whole home repipe. Our staff at On Call Plumbing are ready to take your phone call at 661-201-6016. Discover more about what a great repipe in Santa Clarita, CA can do for your property!